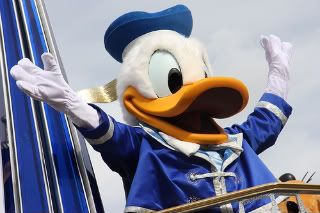 My family & I are planning an eight day trip to Disney World in October to celebrate our fifth adoption anniversary! 🙂
As with most things, we try and look for ways that we can save money. My daughters have become quite good at shopping for bargains and being mindful about wasting. They've seen first hand how taking steps to save money will in turn allow us to be able to do more. It's a concept they really like when they're in the gaming store and they spend their money on
two
pre-owned DS games, instead just being able to afford one new one. 🙂
So anyway….back to Disney.
One of the ways I plan on saving money is something that I'm currently doing….right now before we even leave for Disney. Every time I'm in a store (any type of store), I check if they have any Disney items on sale or clearance. I've also been checking our local flea markets and thrift shops for items in good condition. What I plan to do is give them to my kids throughout our time at Disney. Some of the items they know about because they were with me when I bought them, but some of them are surprises (sshhh!). Everything I buy gets packed away in a duffel bag and put away for our trip to be opened when we get there.
Here's what I picked up so far.
The green Micky Mouse plate was $1.49 on clearance at a local supermarket. The Pocahontas plate was 25 cents at a flea market. It has some scratches but my daughter & I decided to buy it anyway. For a quarter, you can't go wrong. The Disney Princess Pez Dispensers were 50 cents each at a local dent and bent store and were all in mint condition.
Some of these were bought at a flea market, others were from a thrift shop near us. The total for all seven was $2.25.
All of these were bought at a local thrift shop for $3.00
Look for a follow up post as I buy more souvenirs and find other ways to cut costs…..without cutting out the magic. 🙂